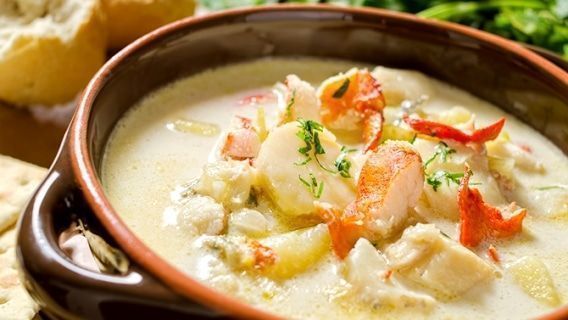 Clam chowder a traditional American soup
Clam chowder: a traditional American soup
For people who like to experiment with new things, especially in the field of gastronomy, it is quite normal to want to diversify the dishes. If this is your case, why not let yourself be tempted by the good American cuisine? Here, we are not talking about hot dogs, sodas, hamburgers or some other fast food. Instead, let yourself be seduced by a soup that comes from the pure American tradition: Clam Chowder.
Learn more about this dish and the best way to make it in this article.
What is Clam Chowder
Contrary to what many people continue to believe, eating in the United States is not limited to the junk food clichés that American gastronomy suffers from. Thus, beyond what we usually see on this subject, especially in the fast food sector, it is important to keep in mind that the cuisine across the Atlantic is able to surprise us in a very pleasant way.
That's what she does with her Clam Chowder soup. Which is part of the Christmas traditions in the United States. Known in English as clam chowder, it is a dish that originated in the northeast of the country, specifically in New England.
It consists mainly of clams, cream, various cooking spices and potatoes.
How to make Clam Chowder
The realization of the Clam Chowder is pretty simple. Including preparation and cooking time, it will take you barely an hour.
The ingredients
If the preparation of this traditional soup does not seem complicated, it is also because the ingredients you will have to use are easy to gather. So, to make your clam chowder for two people, you will need :
– Salt and Pepper
– Half a cup of cream and half a cup of water
– From a 142 gram can of clams
– A large potato
– A 240 ml can of clam juice
– Two tablespoons of flour
– Half a clove of garlic and an onion, both finely chopped
– 8 ml of olive oil, which is equivalent to about half a tablespoon
– Two slices of bacon.
The preparation itself
Once you have all the ingredients together, you can start cooking'elsewhere replace your wheat flour with a gluten-free flour to make your clam chowder in the pure American tradition, you can start preparing. To do this, after cutting your two slices of bacon into lardons, pour a little oil into a large saucepan to brown them so that they become crispy. Then, use a slotted spoon to remove your bacon from the heat and place it on paper towels. Use the same container to soften garlic and onion and wait until the onion is translucent.
Add salt, pepper and flour and stir for about 60 seconds before adding the clam juice. Let it boil while stirring. Boil the potatoes, simmer for about 20 minutes and then add the cream and clams.
After simmering for about three minutes, season a little and garnish with bacon.
Your Clam chowder is ready to be eaten and can be accompanied by bread.
Where to eat clam chowder
To enjoy a well-cooked clam chowder dish, you don't need to make the travel to the United States. Most of the time, you just have to go to a good restaurant that is known for the quality of its seafood. However, this is not always enough since few restaurants of this type are in the habit of offering Clam Chowder.
It is therefore necessary that you carry out thorough research. On the other hand, if you are planning a trip to North America, you should know that in Canada, for example, there is no shortage of restaurants in Quebec and in Montreal. It is the same in the United States.